Las Terrenas Dominican Republic - Tourism & Travel Guide.
The vibrant beach town of Las Terrenas in Dominican Republic
Las Terrenas is located on the northeastern coast of the Samana Peninsula, about a 45 minutes drive from the town of Samana, and only 20 minutes away from the El Catey (AZS) Samana Airport via the new scenic highway running along the Atlantic coast.
Back in the early 1980's, Las Terrenas was pretty much only a sleepy fishermen's village and over the last 30 years the village was redeveloped entirely transforming the old fishermen's cabins into hotels, apartments, bars, restaurants and shops.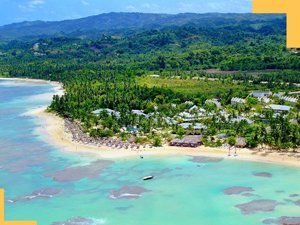 The scenic beauty of the place with its endless beaches (more than 20 kilometers of beaches) and the coexistence of different nationalities (French, Italian, German, Swiss, Canadian, American, Spanish, Latin and Dominicans), helped make Las Terrenas the most vibrant and cosmopolite vacation destination in Samana peninsula.
Today, Las Terrenas is a seaside resort that can accommodate equally those who want to share family vacation and those who want to celebrate with friends, enjoy various sports including Kite Surfing and those who want to relax, with so many activities to do.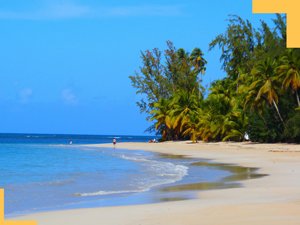 Las Terrenas is well known for its scenic landscapes coupled with white sand beaches and clear waters. Among the best known beaches are "Punta Poppy", "Playa Bonita", playa "El Portillo" and playa "Las Ballenas".
Water sports and activities carried out at sea are many, such as diving, boating, sailing, kite surfing and others are part of the tourist attractions of the place.
Tour Agencies from Las Terrenas will bring you Whale Watching in Samana Bay (in season : January 15 to March 15), Atvying in the Samana Peninsula, Horse back riding to the Waterfalls and amongst other activities to discover, boating to Los Haitises National Park.
Las Terrenas offers by far the best lunch and dining options anywhere in the Samana province. An overwhelming choice of more than 80 restaurants, serving from French to Asian fusion cuisine and a Nightlife and bar scene without equals in the Samana peninsula.
Come discover for yourself this vibrant small town of Las Terrenas and spend a memorable vacation in the spectacular region of Samana ; the true Eden of the Dominican Republic.
Las Terrenas, the most vibrant and modern tourist destination in the Samana Peninsula.