Where to Eat
in Las Terrenas
Guide of the best Restaurants & Bars and best Nightlife in Las Terrenas.
From French to Asian cuisine, from beach restaurants to elegant dining, from Seafood specialties to oven Pizza, you'll find it all right here.
Find the Bars, Clubs and Nightlife in the section below.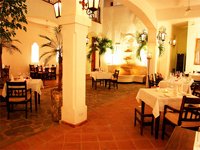 Mi Corazon Gastronomic Restaurant
Downtown Las Terrenas
Owners Lilo and Daniel of Mi Corazon welcomes you to an amazing Gastronomic experience oftenly voted as the "Best Fine Dining" place in Las Terrenas. Rated #1 on Trip Advisor. Hacienda style decor accompanied by extensive menu and world class desserts.
See Website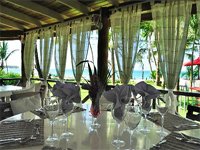 Le Tre Caravelle
Rated Best Restaurant in Las Terrenas
Le Tre Caravelle : Top 10 Rated Restaurant in Las Terrenas on Trip Advisor. Cozy lunch and fine dining restaurant with a covered terrace, a nice garden with parasols for romantic dinners and beach tables located only 5 meters from the oceanfront.
See More
The Beach Restaurant
The Peninsula House - Las Terrenas
Our chef specializes in fish, seafood and other dishes inspired by the ocean, local produce and fruit from our neighboring countryside. Our desserts are not to be missed. Guests enjoy aquatic activities or a siesta on a chaise longue, always returning to The Beach for creative cuisine. See Website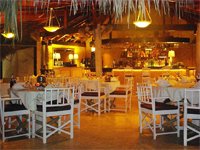 Chez Sandro by the beach
Playa Poppy beach, Las Terrenas
Located right on the beach in Las Terrenas. Great lunch place with your toes in the sand. Fine dining at night in their Restaurant accross the street. From Baby Lobster pastas to Filet Mignon cooked to perfection, Chez Sandro is a top spot favorite in Las Terrenas !
See More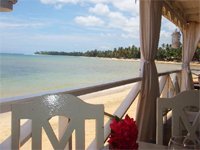 La Terrasse Restaurant Bar
Fisherman's Village - Beachfront
One of the Favorite Restaurant located in the famous Fisherman's Village ( Pueblo de Los Pescadores )This one is the premier "white table cloth" experience. Large deck with outdoor seating on the edge of the beach. Great atmosphere in a memorable romantic setting.
See More
Best Bars, Clubs, Discos and Nighlife in Las Terrenas Dominican Republic.
Bars, Clubs & Nighlife
Gaia Night Club
At the Fisherman's Village
By far the most modern Night Club in Las Terrenas located at Fishermans Village. Sergio, the super friendly owner will make sure you have a good time ! Three stories high Dance Club with different types of music on each floors. Third floor has now a new Sushi bar.
See More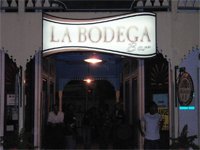 The Bodega Night Club
Dance Club downtown Las Terrenas
One of the best dancing club in town. You can dance Salsa, Bachata, Merengue and sometimes Dembow and Reageton. Tuesdays and Thursdays, local dance school dancers invite people to learn and dance. Great place to connect and meet people in a casual setting.
See More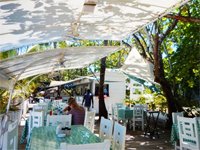 Mojitos Beach Bar & Lounge
Playa Poppy - Las Terrenas
Beach Bar located in beautiful Playa Poppy in Las Terrenas. Simply the Best Mojitos and Coktails selection anywhere in Las Terrenas. Fun atmosphere right by the ocean, with really friendly service. A must place to discover during your vacation. Come enjoy by day or by night !
See More
Go Las Terrenas - The online Travel Guide about Las Terrenas